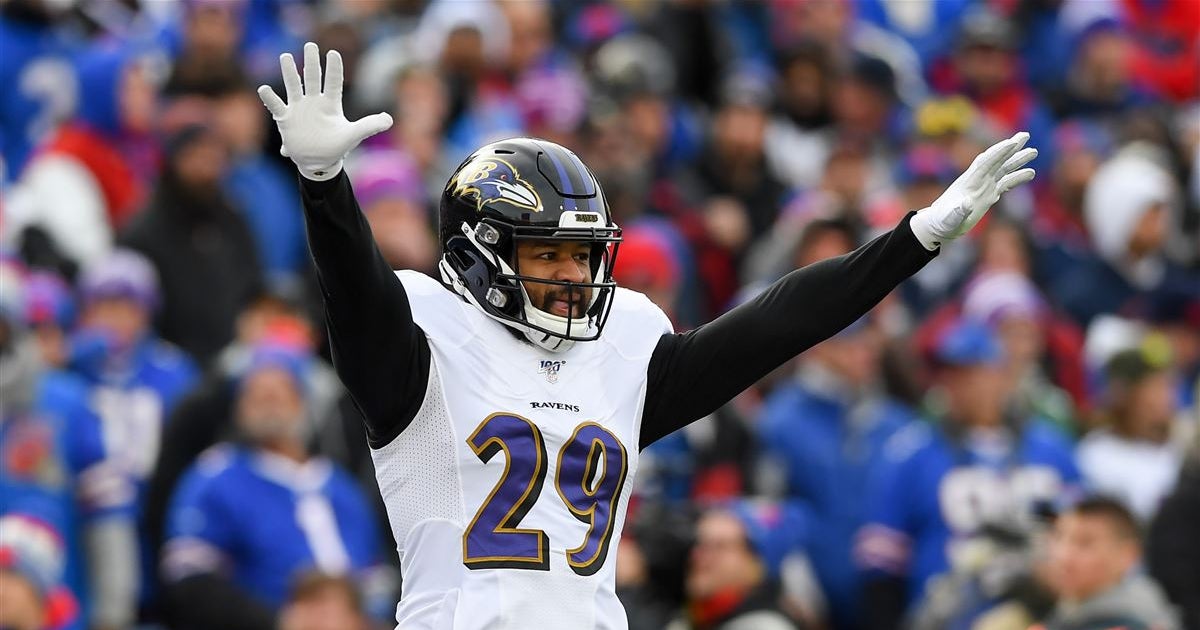 Six days after the Baltimore Ravens officially released star safety Earl Thomas, following a fight that allegedly broke out last Friday, a market remains slow for the seven-time Pro Bowl pick. According to ESPN NFL insider Jeremy Fowler, though, Thomas is targeting a new NFL team at some point in the next month.
"He doesn't have anywhere to sign, he can wait, but he is loosely planning to file a grievance against the Baltimore Ravens over his $10 million in guarantees for 2020," Fowler said. "Ravens say he had conduct detrimental. Thomas … (said), 'They had to suspend me for conduct detrimental in order to take my money.' So that is a brewing battle. He expects to find a home sometime probably in September."
Thomas, 31, was set to enter his 11th NFL season and second year with the Ravens after Baltimore signed him last March to a four-year deal worth $52 million ($32 million guaranteed). The 5-foot-10, 202-pounder's sudden departure stems from a fight that allegedly broke out last Friday in practice when Thomas and fellow safety Chuck Clark reportedly got into an argument and subsequent scuffle after a play's missed assignment.
NFL Network insider Mike Garafolo reported last the weekend that the Ravens, who sent Thomas home from Friday's practice and was not in the facility Saturday, were not expecting him to be back Sunday. Garafolo added that "everything" was on the table, including a costly release, which could have ways around it.
"He has $10 million guaranteed coming to him in the form of a base salary this year, but potentially, those guarantees can go away for suspensions for conduct detrimental," Garafolo said on NFL Network's NFL Total Access.
Thomas started all 15 games he played in during his 2019 debut with 49 tackles (two for loss), two sacks (six quarterback hits), two interceptions (four pass breakups) and one forced fumble (one recovery).
Despite his productivity, he has seen a slow market with the apparent baggage looming large. The Dallas Cowboys and San Francisco 49ers, respectively believed to be a pair of likely landing spots for Thomas, have each declined interest.
"I'm really happy with our safeties and nothing against Earl, but there wasn't interest just because we have our team, the guys that we want at our spot," 49ers head coach Kyle Shanahan said Tuesday. "This is how we planned it and we've got some good competition there, too, with the guys that have been behind them. We're excited about our group."
In 125 games (all starts) with the Seahawks, Thomas earned six of his seven Pro Bowl picks. He totaled 465 tackles (11 for loss), 28 interceptions (67 pass breakups) and 11 forced fumbles (five recoveries).
The Seahawks selected Thomas with the No. 14 overall pick in the 2010 NFL Draft. Previously at Texas, Thomas totaled 135 tackles (7 1/2 for loss) and 10 interceptions (two touchdowns) in 27 games from 2008-09.
Thomas was a three-star recruit from Orange (Texas) West Orange-Stark. He signed his letter of intent with the Longhorns as the 247Sports Composite's No. 336 overall prospect, No. 23 safety and No. 42 player in Texas for the 2007 recruiting class.