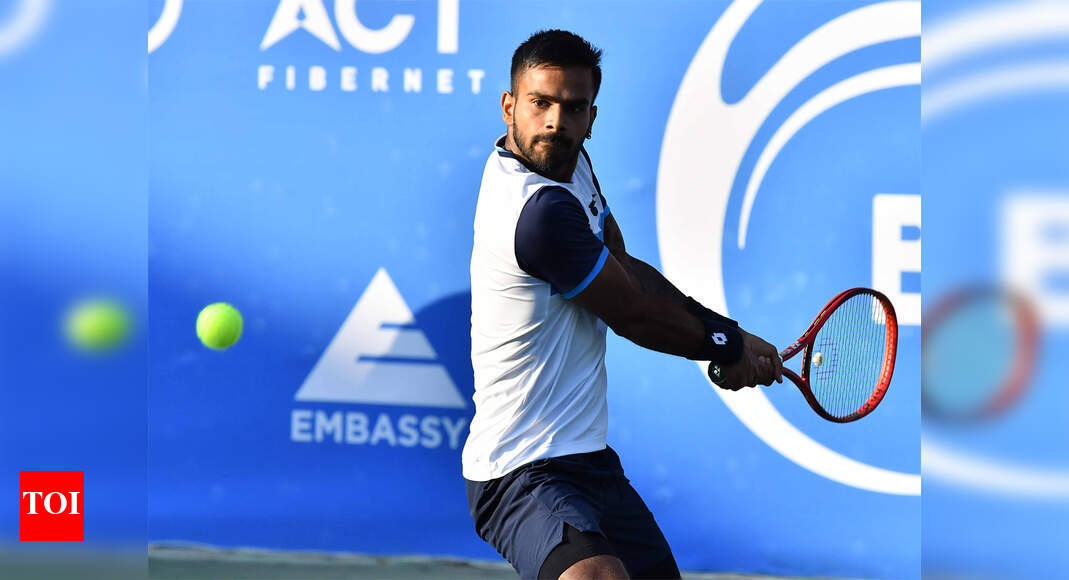 Sumit Nagal
is simply happy to be playing
tennis
in uncertain times rather than ponder about not being under the spotlight and playing in empty arenas.
The World No. 122, who turned 23 earlier this month, grabbed headlines when he took a set off
Roger Federer
at the US Open last year, his maiden appearance at a Grand Slam.
Twelve months on, he is back in New York in entirely different circumstances. He has a main draw direct entry, thanks to a few pull outs, but he has earned it on merit.
Nagal will take on local favourite Bradley Klahn in the first round, and a win will likely pit him against second seed
Dominic Thiem
of Austria. Unlike last year, with the Slam being played without fans in a bio-bubble, there will certainly not be any buzz when he walks out on court for his opening round.
"I had my first Grand Slam main draw here last year, qualified for it. Looking at all the situations this year, I have got into the main draw, not the worst thing that could happen to me," said the Haryana lad, referring to the pandemic that has wreaked havoc with the sport's calendar.
"I understand the world is not at a better place but you have to do things to survive sometimes, and for me playing tennis is how I am gonna survive.
"I feel like I am playing very good tennis. I have worked a lot in the last four-five months and feel pretty good about it. I am looking forward to my first main draw match (at a Grand Slam) this year."
Klahn won't be a pushover. The California native is ranked 128 but has been as high as 63 six years ago. The 30-year-old is a 2010 NCAA champion and has eight Challenger titles and $1.5 million in career prize money.
Nagal liked the fact that Klahn is a southpaw.
"It is a good opportunity to play a leftie. I like playing against lefties. So that is one good thing for sure, I could have played a seed in the first round. I am gonna grab this opportunity and look forward to it," he said.
The Indian, who has given his hair a peroxide hue, has had a solid buildup to the Open, although it had come on clay. He escaped the full lockdown back home in India as he had already moved to his base in Germany by March. And that helped him hit the courts much earlier than his compatriots.
In fact, he won a club tournament much before playing his first competitive match at the Prague Open Challenger a week ago, where he lost to
Stan Wawrinka
in three sets in the quarterfinals.
"I lost my focus in the second and third set. My head just wasn't right, did not fight the way I should have," said Nagal of his 2-6, 6-0, 6-1 loss to the three-time major winner, who is not playing the US Open.
"When you play players like him, they see it. They feel the game. In the third set his level was higher than mine and I was struggling to keep myself together."
Nagal, who has his trainer Milos Galecic from the Nensel Tennis Academy alongside in New York, was not too flustered about the restrictions imposed on the players at the Open.
"They are trying to do their best to hold the tournament … For sure there is a lot of protocols here. The only thing we are able to do is stay in the hotel room, take a bus and go to the tennis, and come back," he said.
"Having no people (in the stands) it kind of feels weird but looking at the scenario, things have changed a lot in the last few weeks or months.
"But being in New York and not being able to go out feels a little awkward to be honest."