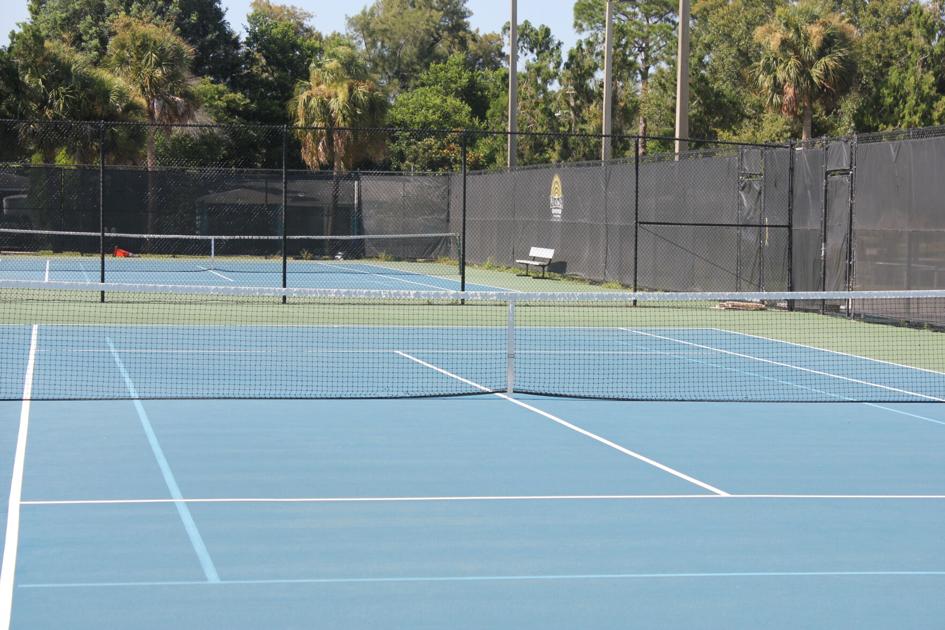 NEW PORT RICHEY — The price tag is steep and receiving only one bid for the work can be concerning, but there's work that needs to be done.
That was the general reaction of the City Council on Aug. 19 in regard to future repairs and improvements to the tennis courts and adjacent parking lot at the Recreation and Aquatic Center.
Similar to when the City Council decided to table the issue at its July 7 meeting, the primary concern was price: $520,705.
"I'm going to vote for it because I don't really see an alternative at this point, but it's another one that's sticker shock," said Councilman Jeff Starkey.
The group of four fenced-in tennis courts off Van Buren Street were constructed more than 20 years ago, said Public Works Director Robert Rivera. 
"It's my understanding they have been attempted to be repaired on several different occasions over the years for the drainage problem, but the drainage problem is a design problem," he said.
According to recommendations from engineering consultants, a poor original design coupled with years of stormwater runoff require the stabilization of the tennis court sub-bases, the resurfacing and restriping of the courts, and stormwater drainage improvements. In addition to court repairs, the project includes resurfacing and restriping the parking lot, converting all exterior lighting for the parking lot and tennis courts to LEDs, replacing the fencing around the courts where needed, and removing and replacing relevant electrical systems.
Breaking down the project monetarily, tennis court repairs are tagged at $299,741 and parking lot repairs and lighting conversions cost $170,964. There is also a $50,000 owner's contingency.
Funding for the project will come from Penny for Pasco tax dollars.
Since the city issued a request for proposal on June 17, it's received one bid to complete the project. The lack of interest and competition has been another sticking point for council members.
"I like that there's been confirmation that it's a fair bid in today's time, which is when nobody wants to bid for things and it's hard to get somebody to bid," said Councilman Peter Altman. "It's probably a high bid, not sure it's a fair bid. I'm not questioning the validity of it, but I think for this amount of money I'd like to see some options."
The project's lone bidder is Tarpon Springs-based Augustine Construction Inc. Tampa-based engineering consultants Halff Associates Inc. reviewed the bid for the city and recommended awarding Augustine.
When council tabled the item in early July, board members tasked staff with exploring other options, such as putting the project back out to bid or building a new set of tennis courts at another city park. According to Rivera, repairing the existing courts and parking lot would be much less pricey.
"When we added the same size parking lot, as well, we were up to an estimated $1.3 million," he said. "And that excluded the operational costs we would have to pay for the other site."
Councilman Chopper Davis did remind the board that previous discussions included opinions that the project may likely be completed under budget.
City Manager Debbie Manns concurred. "Mr. Rivera is very good at deductive change orders," she said. "At the conclusion of a project, I have no doubt that he would bring this project in under budget if you give him enough opportunity to do so."
While all five council members expressed cost-based reservations, the board voted 4-1 to award the project to Augustine Construction.
"I guess the one thing that's a little disappointing here … is that we, we being the city as a whole, let these courts get in such disrepair," Starkey said. "It is a tremendous amount of money, but we do have to stay on top of our property a little bit better."