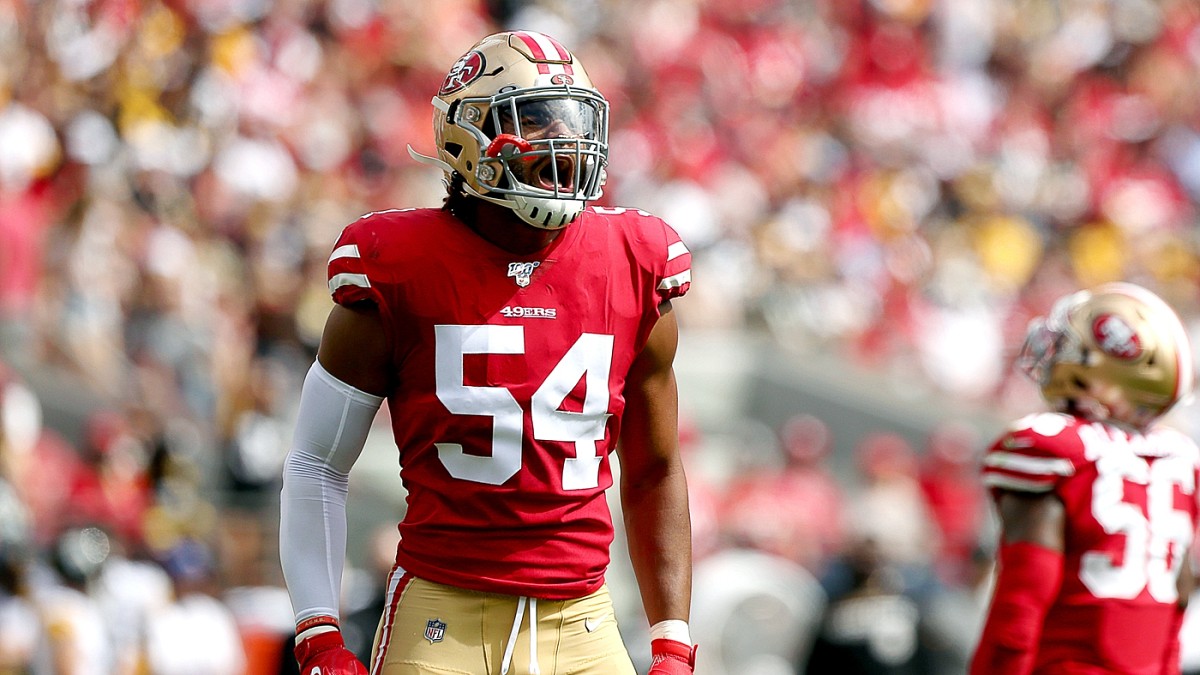 ESPN took a look at last season's 12 playoff teams and ranked their chances of making the postseason this season. The San Francisco 49ers, for those who are curious, came in at No. 4. Only the Kansas City Chiefs, Baltimore Ravens, and New Orleans Saints ranked higher.
Writer Jeremy Fowler notes that, beyond tight end George Kittle, quarterback Jimmy Garoppolo's arsenal of offensive weapons has been impacted by injuries. Deebo Samuel, Brandon Aiyuk, and Richie James are among the receivers who have or are expected to miss time. Second-year wideout Jalen Hurd will miss his second consecutive season.
Even Kittle and fullback Kyle Juszczyk are banged up.
Despite the injuries among Garoppolo's targets, one NFC executive pointed to the interior of the 49ers offensive line as the team's biggest weakness. Laken Tomlinson is solid, but the team is banged up at center, and there is still a competition for the other guard spot.
"That said, if anyone can scheme around that, (Kyle) Shanahan can," the exec said.
As for team strengths, one NFL coordinator believes the 49ers trio of linebackers — Fred Warner, Kwon Alexander, and Dre Greenlaw — can be dominant, calling Warner a top-10 talent.
"I know their defensive line is great, but Warner sets a tone for them," said the coordinator. "Really good against the pass. I like that linebacker corps."
Greenlaw is entering his second NFL season while Alexander is a veteran defender. Warner, a rising NFL star, is headed into his third year as a pro. He led the team last season with 118 tackles while adding three sacks, an interception, a score, nine passes defensed, and three forced fumbles.
"He's an incredible linebacker," Kittle said of Warner last week. "He was, in my opinion, a Pro Bowl linebacker last year, and I think he's going to be better this year. Just being able to play against him every day makes me a better tight end. It's just really fun to have someone like that on your team."
Kwon Alexander and Fred Warner offered up their assessments of the San Francisco 49ers linebackers unit heading into the 2020 season, and they expect to see a significant improvement in their second season together.
Alexander confirmed he underwent offseason surgery on his bicep after the Super Bowl. It wasn't hurting at the time, though, and the sixth-year linebacker is feeling "legendary" right now. He feels more comfortable with the defense now that he has a little experience playing within it, and feels that will pay dividends in his second season with the 49ers.
"I feel legendary right now," Alexander said via Zoom on Sunday. "I'm just happy. I'm ready to go. It's my second year under the defense. It's starting to get easier. I'm starting to pick stuff up a
Ben Linsey of Pro Football Focus took on the task of ranking the top 25 NFL linebackers heading into the 2020 season. Two San Francisco 49ers players — Fred Warner and Dre Greenlaw — made the list.
In July, Pro Football Focus ranked the 49ers linebacker group as a top-10 unit. Warner and Greenlaw were a big reason why.
Warner came in at No. 11 within Linsey's ranking.
"Warner's PFF grade this past season was brought down by a 46.8 run-defense grade and over 20 missed tackles, but he was better in both areas as a
The San Francisco 49ers are deservedly earning their due respect after a trip to the Super Bowl last season. In fact, ESPN ranks just two teams above them in its recent power ranking. Those teams would be the Kansas City Chiefs, who come in at No. 1, and the Baltimore Ravens at No. 2.
That means San Francisco is the highest-ranked NFC squad, coming in at No. 3 overall.
As part of the ranking, ESPN writers were asked to identify one player on each roster who is on the hot seat heading into the 2020 season. 49ers beat writer Nick Wagoner named pass rusher Dee Ford.
"Knee issues limited Ford to 11 games and he averaged just