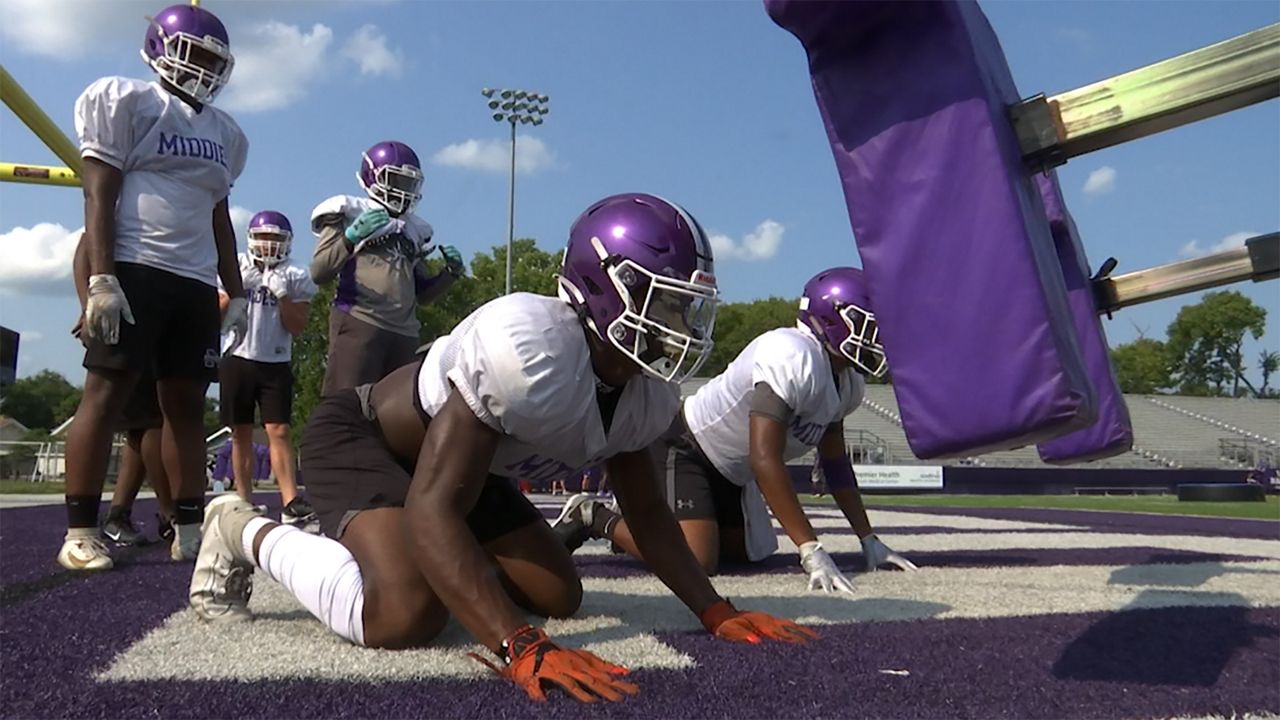 MIDDLETOWN, Ohio — It's been a rollercoaster of emotions for football players at Middletown High School. After learning their season was suspended on July 29, they felt deflated, but they wouldn't be defeated. They voiced their opinions on social media. They held player only practices. And they got school officials to change their minds. 
One week ago, the Middletown High School football program was sitting on the sidelines as their season was suspended.
But after a change of fortune, the football team is back on the practice field in pads, getting ready for their first game.
Senior Linebacker Cameron Junior said it's been a unpredictable situation for everyone on the team.
"It's been pretty crazy," Junior said. "These last few weeks have been pretty devastating for us."
Junior has 22 offers to play at the college level already but was looking forward to earning more during his senior year. He also knows how important this season is to other players on the team so they too can find opportunities to play at the next level.
"For my teammates, I felt like it was going to be harder for them because a lot of my teammates are striving to get out of Middletown and striving to have a better life for their families."
So they fought. And continued pushing for a chance to compete. They posted to social media, expressed their frustration and led player-only practices.
The players applied pressure until they finally broke through.
On Monday, the Middletown City School District Board of Education unanimously voted to reinstate all extracurricular activities.
Senior Quarterback Kamari Fuller was elated to hear the news because now he has a chance to prove he has what it takes to play at the next level.
"That was the best day in my life, really," Fuller said. "Because I've been looking forward to this and to feel like it was being snatched away—that was the worst feeling. And then they turn around and flip it on us, that was a great feeling."
But there is a newly added requirement.
All student athletes have to sign an assumption of risk COVID-19 waiver. But for the players, there was never a second thought.
"That waiver is nothing," Junior said. "We just wanted to play. That's all we want."
Junior said his father, who is a coach on the team, did not hesitate to sign the waiver, and Junior said he doesn't know of any players families who didn't want to sign the waiver.
Now the team has just a few practices to prepare for their first game on Sept. 4 against Fairfield High School.
Middletown Head Coach Don Simpson said his guys will be ready.
"We don't look at it as a set back; we look at it as a set up for our season," Simpson said. "This is perfect for us."
Simpson said it will be a challenge, but it's something the Middies are prepared to handle.
"It doesn't get any more adverse than this, to go and get your season ready in less that two weeks," Simpson said. "We're looking forward to it."
And the players are looking to make the most of their newly-restored opportunity.
"We're just going to play how we can, do what we can and just try to keep our season and try not to get shut down," Fuller said. "Do whatever it takes."