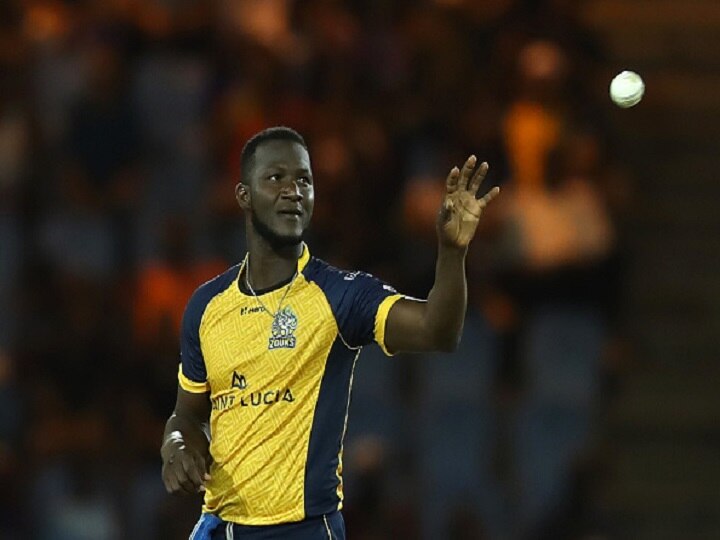 Trinidad and Tobago is hosting the matches of the Caribbean Premier League (CPL) this year and Daren Sammy is missing his home ground , the stadium in St. lucia which is named after him.
The legendary former captain of West Indies and the only cricketer to lift the World T20 title twice as a captain, answered the questions of ABP Live on topics ranging from black lives matter to Indian Premier League (IPL) .
Sammy is leading the St. Lucia Zouks side in the ongoing CPL.
Here are the excerpts of Sammy's conversation with ABP Live:
How are you coping with the chain scenario of cricket after COVID-19 or during this COVID-19 break?
I'm happy to be back working again for sure. You know, this is something new, in a way, you got to be isolated. But this is what it takes for us to play the game that we love. And ideally, that not what you'd want, but in the interest of safety and health. That's what you have to do. So, I'm okay.
We've seen a lot of protest worldwide – Black lives matter has resonated with each and everyone. Do you think George Floyd incident has helped change perspectives?
I think the George Floyd incident has raised the awareness and given you know, black people the confidence to speak out against the issues and also, you know, some white people you know, just people in general have fought now. Now think they have a voice and they could be heard on the matter and as you've seen it, it started a conversation that was much needed.
Do you think cricket rulebook is well equipped to handle racism in its code of conduct?
I think they should have some education. I said once all the emphases that ICC puts on anti-corruption you know undo things the same type of energy should be put on for anti-racism you know and educate the players about racism.
Will it benefit St Lucia to not have their fans around, in terms of pressure considering previous years have not resulted in finals for the side?
I am hoping that we could do much better this year. Whether the crowd has played a part in it not performing, I would not put that blame on them. I think it's more or less the way we've gone out and play and executed our plans. But I don't think any sportsmen want to play cricket without the fans, you know, that could also be motivation for them. But you know, I'm going out there maybe for our youngsters with no crowd pressure that could play a part but all in all, we're just happy to be back on the park.
Unlike the other squads, there aren't too many big stars in your team this season – how do you see that working out for your side?
I think what I see for this, from the form us coming into that is, you know, young men just eager, you know, to showcase their talents. Yes there are not superstars, but the way we've gelled together off the field. I think that could play a big part. And when you have young talented players looking to make a name for yourself and motivated to play in the CPL .
I think if we could channel all that energy that I've seen so far, and put it to our game, we'll be forced to record within this tournament.
You've been part of St. Lucia Zouks since the inception of CPL in 2013. How good are the chances of the team winning the title in the upcoming edition according to you?
I think our chances are as good as anybody is, you know, at the end of the day you go out on the cricket field to win matches. What I could tell you is I love the look of my team. I love the management and coaching staff that we have.
And I love the way that my players buy in to the method or the process that we have to take to win cricket matches and so far, the tournament have started well, you could see a change in the way we play, a lot of planning have gone into to our discussions on preparation and we just We don't have the superstars, but we have the effectiveness and I will take effective this any day over a team of stars.
After playing with those CPL and IPL for so long? What is the biggest difference according to you in both of the leagues?
IPL is the mecca of the T20 cricket, where CPL is the mecca of entertainment. You know, in cricket, yes, so, so, obviously playing at home, you know, this year we had no funds but you know, there is no experience like playing in a CPL in a full in front of a full house in the Caribbean.
Some of the biggest hitters, and superstars in the world, but the IPL is the most lucrative, in all of the leagues, and it's been played in India, a place where cricket is like a religion. So, you know, both has its own special, identity, which I have enjoyed both places.