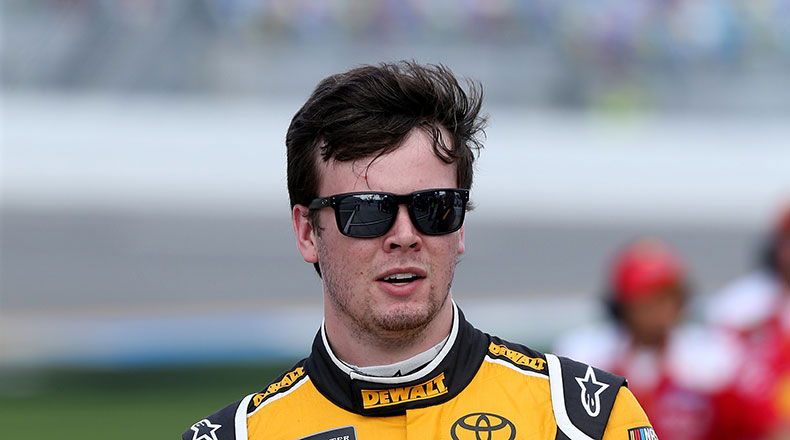 In the buildup to the Coke Zero Sugar 400, there were four protagonists for two playoff booths. William Byron eventually won the race and cemented his place. However, the battle was on between Erik Jones, Jimmie Johnson and Matt DiBenedetto for the last one.
Sadly, Jones was soon knocked out of contention when Tyler Reddick slid into him.  Obviously, he was hopping mad because he needed a win in the NASCAR Cup Series regular-season finale.
At the time of the incident, he was running third at Daytona International Speedway with eight laps to go. This put him in a prime position to sneak in at the last moment.
Unfortunately, Tyler Reddick had other ideas when he muscled past Kyle Busch for the lead at turn four. He carried a little too much speed and went straight into the wall. A helpless Busch and Jones could not avoid him and they collided, triggering a multi-car crash.
Erik Jones was not at all amused at Reddick's antics
The 24-year old did not mince his words when he spoke about the rookie driver after leaving the infield care center. Jones told NBC, "It's unfortunate. He wrecked us at Pocono, and then to have this happen. It's two times making crazy moves that weren't going to work out. Unfortunately, it was to the detriment of us today."
According to the disappointed driver, Reddick had not cleared Kyle Busch when he tried to pass. Then he ran into the wall and triggered a chain reaction with several drivers wiping out behind him.
Jones insisted that Reddick carried too much speed to even attempt such a move up the hill. This was especially risky, considering the low grip left on his tires.
This crash is particularly cruel, since Jones is still seeking a ride next season.  The good news is that Reddick took the blame for his reckless actions.
"I would be pretty upset too," Reddick said. "I was just too late, I was clear for a second. When I slid up, I messed (Busch) up and it caused a big wreck back there. I totally understand them being upset."