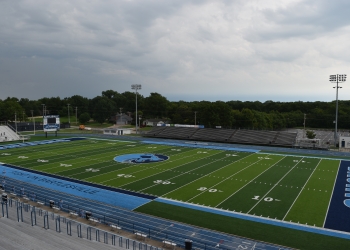 Bartlesville Public Schools has released details for ticket information for Friday night's home-opener football game against Claremore.

As we reported a couple weeks ago, Custer Stadium will be limited to 50-percent capacity on Friday night. Fans will be asked to wear a mask and social distance in the stands. 

In addition to the capacity cap, fans who are planning on attending the game will be asked to pre-buy their tickets this week in-order to avoid lines.

 – Tickets will be sold to BHS students during lunch periods at the Bruin Field House concession stand from 10:30-12:30 Tuesday – Thursday.

 – Tickets will be sold to the general public from the Custer Stadium ticket booth Tuesday – Thursday from 5:00 – 7:00 PM.

Any remaining tickets will be sold on game day until gone starting at 6:00 PM. 

Bartlesville High Athletic and Activities Director Thad Dilbeck says this is all in an effort to keep distancing at the game. 

The 50-percent capacity at Custer Stadium will be about 3,000 fans.

The capacity limit and pre-buying tickets does not apply to season tickets or passes, they will be honored at the gate with no prior-activitiy required. 

Much more on the Bruins and Zebras later on this week. If you can't make it out to the game, we will have the radio broadcast on KWON – AM 1400 and FM 93.3. You can also watch the game for free on KWONTV.com.