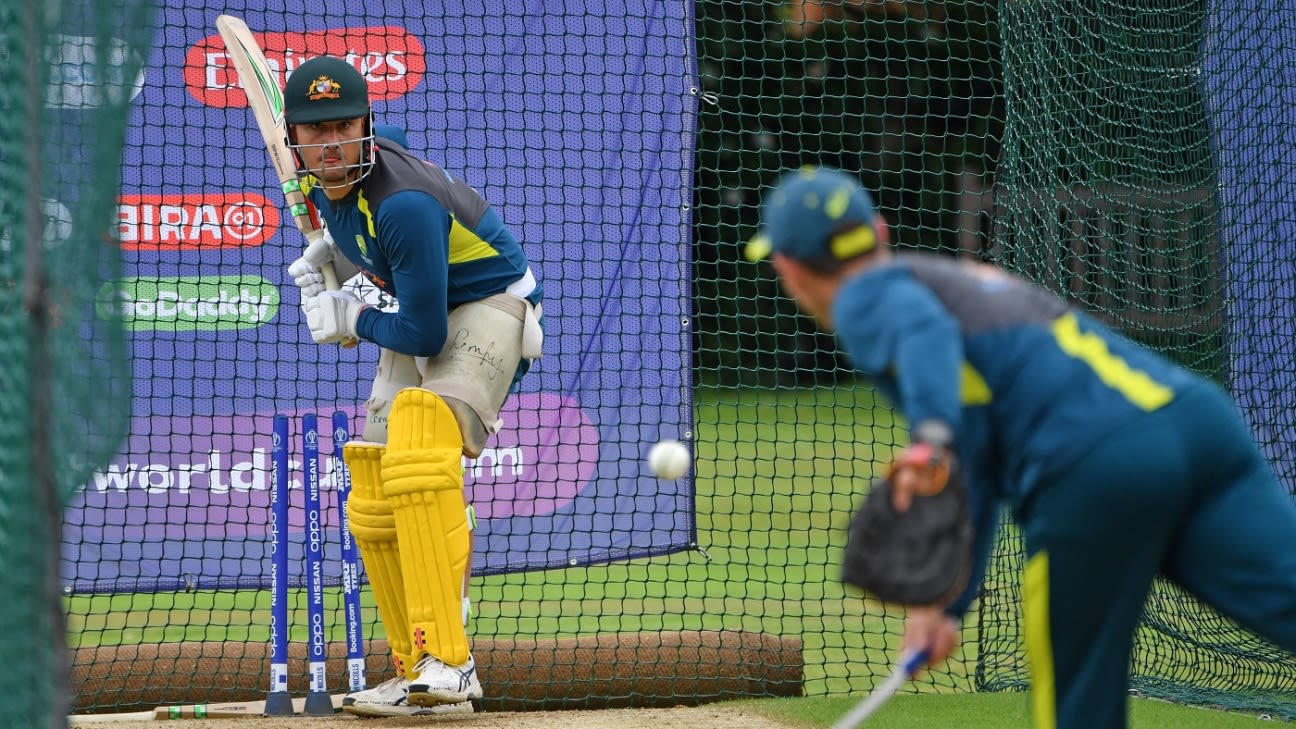 Marcus Stoinis is aiming to bring some inventiveness back into his batting if he gets the chance to resume his Australia career on the tour of England.
Stoinis has returned to the set-up for the first time since last year's World Cup as part of the 21-man squad for the T20I and ODI series that marks Australia's return to action after five months. He opened the batting for the Cummins XI in the first intra-squad warm-up match on Friday, adding an unbroken 60 with Matthew Wade before rain arrived. But with plenty of top-order batting options, the middle order would seem the likeliest place if Stoinis is to have a starting role in either white-ball format.
His standout international innings was the 146 he made against New Zealand from No. 6 in 2017. It was the position he held during the World Cup too, but he returned just 87 runs in seven innings then. He has, however, had a prolific Big Bash League for the Melbourne Stars since then – 705 runs at 54.23 including a record 147 not out against the Sydney Sixers – where a few small technical changes brought reward.
"There were a few little changes – I was more willing to move around the crease a little bit and create a few options and change the dynamic of the game," Stoinis said. "I'm quite a structured individual and a structured player. That's a small thing I've changed. It might be early in the innings or might be more to get off strike, if I get an idea by reading the bowler of what they are trying to bowl, being able to manipulate the field and pick spots where I want to hit boundaries.
"It's something I did a bit earlier in my career when playing for Australia, being younger you are a bit more carefree and looking to take risks. I went away from that a bit so probably something I can bring back into my game."
Initially, Stoinis' outstanding BBL form was not enough to get a recall when he was overlooked for the tour of South Africa which immediately followed the tournament, but the need to have more options available in the biosecure era has opened the door.
"It can be frustrating when you feel like you've got results on the board and you don't get rewarded," he said. "But in the same breath, there's probably five, six, seven players who feel the same way. So you don't get too carried away with it, you just keep doing your thing. I didn't know how long it would take to get back… it's a nice reward to be back in the squad."
Stoinis also believes he can add value with his death bowling, a role he had taken on during his previous spell in the side. He helped close out ODI victories against South Africa in Adelaide, India at the SCG, and Pakistan in Dubai.
He wasn't quite as effective at the World Cup, during which he suffered a side strain, and injuries prevented him from bowling for most of the BBL. But the extended layoff has helped him get his body in good shape.
"That's still something I really enjoy doing and feel like I can add benefit to the team in that way," he said. "We've obviously got good death bowlers as well, but it's something I can see myself performing well."
As with other players on the fringes of international teams, the postponement for this year's T20 World Cup gave Stoinis an extra year to impress the selectors ahead of the next tournament, which will be in India in October 2021.
"If it was October, who knows, you might be able to sneak in," he said. "On a selfish note, the fact it's been delayed a year does give me more of a chance to force my way in."
In the shorter term, Stoinis could be the type of player required in larger international squads during the Australia season due to the need for hubs, which in turn might limit the domestic cricket he can play.
"You probably do spend a bit of time thinking about it and what you will put in place to help you keep sane and hungry and prepared," Stoinis said. "It could be difficult. But you make a plan for yourself and make a plan with coaching staff, I think everyone will be in a similar boat.
"It's something we have touched on as a group, but nothing has been put in place. The schedule is so up in the air. How the bubble is going to work is up in the air. Seeing family will be tough most likely. But these things aren't finalised so we're not digging too deep until we get more answers on that front."