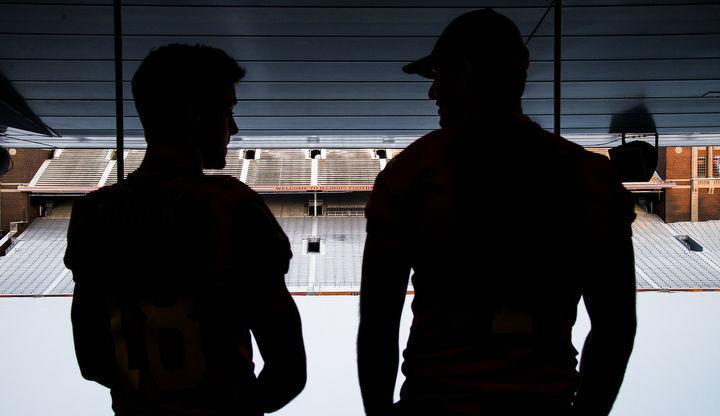 Hey, local college football fans, I've got a bone to pick … politely. Please, no more whining, moaning, complaining or lamenting. Forget all those "ing" words that fill your heads.
Don't want to hear, "Why can't we play?" while pointing at the ACC, Big 12 and SEC.
The Big Ten (and Pac-12, Mid-American Conference and Mountain West) are taking the fall off. Deal with it.
It's a good time to learn about conferences you rarely watch, like the Sun Belt. Ask a Michigan fan about Appalachian State, then be prepared to duck.
Oh, yeah, here's another idea: start looking ahead.
As Illinois coach Lovie Smith said repeatedly the last time he talked to the media: Big Ten football will return. Hopefully, soon.
He's 100 percent right. The game is not gone forever. It is simply taking a nap.
All sorts of concepts for how college football could operate moving forward are out there. Every one has merit. And they have the ability to work with the proper support, both financial and personnel-wise.
At this point, after what the country has experienced the past six months during the coronavirus pandemic, I believe we are all willing to pitch in. And we will embrace a bit of inconvenience if it means the sports we love are able to return.
I realize in Champaign-Urbana, with a high level of expectation for Brad Underwood's basketball team, roundball is a priority.
But Smith and his Illini football team had high hopes for a successful 2020 season. Now, it has been shoved back at least a few months.
Most of the Illini regulars have promised to return. Even if the team loses a player or two, the depth is adequate enough to fill the gaps.
Five months until kickoffWhen the Big Ten first considered postponing the 2020 season, everyone assumed that meant football in the spring.
And that's OK. Except for what it would do to the 2021 fall season, which includes Illinois' trip to Ireland to play Nebraska almost a year from now on Aug. 28. That's still on the schedule. At least right now.
For selfish reasons only (I want to go see my late grandpa's homeland), my return-to-the-field plan won't put that game in peril.
So, that means the delayed season must be played mostly in the winter.
Matthew Stevens of IlliniNow, came up with a nifty seven-game schedule. He even used the proper term "Open," instead of the often misused "bye." (Thanks Matt).
His plan would have the season starting in mid-January with the handful of domes in the Big Ten footprint used as the host sites.
Seems like a terrific solution to the obvious problem: winters in the Big Ten can turn nasty.
My idea is a bit different. First, I would kick back the start to late January.
The first week of the season would be Jan. 28, a Thursday. Open with a highly-anticipated monster like Michigan-Ohio State and watch TV sets light up across the country. It would be the highest-rated college game in years.
The rest of the first weekend would include other rivalries: Indiana-Purdue, Illinois-Northwestern, Minnesota-Wisconsin, Iowa-Nebraska, Penn State-Michigan State and Maryland-Rutgers.
And they aren't going to be in domes. Instead, we will go with campus sites.
Yes, I understand, we are going to need to get lucky with the weather. But I've seen the NFL host playoff games in frigid January for years and they seem to be doing OK.
Plus, anyone who knows me understands I love games played in snow. So, if there is a blizzard or two, go back to one of my original points: deal with it.
Back to scheduling, it will be eight games played in eight consecutive weeks. The goal is to leave as much room between the end of the 2021 spring season and the start of the 2021 fall season, which will get pushed back to early October.
My spring 2021 schedule will wrap up by the end of March. That means about six months before the 2021 fall season kicks off.
A few more details on the spring schedule: teams play the other six teams in their division. That means Illinois has Iowa, Minnesota, Nebraska, Northwestern, Purdue and Wisconsin. Schools play two games against teams from the other division. One of the games is against the team that matches you placement-wise from the 2019 standings. Illinois plays Indiana as both teams finished No. 4 in 2019.
For the final cross-division game, I'm going to borrow the idea (props to Jim Harbaugh/Jeff Brohm) to play against the team that occupies your spot on the other side. East No. 1 plays West No. 1. East No. 2 plays West No. 2, etc.
Out of all that, you get a champion in the weirdest college football season we will ever experience.
I've left an open week at the end of March. It can be used for a Big Ten title game or a makeup date in case COVID-19 postpones any of the games. But the next section will explain why that, hopefully, isn't necessary.
Safety firstThe end of January is five months away. That's time for our country to get its act together and either come up with a COVID-19 vaccine or effective treatment.
But we can't count on that. And we can't risk the health of the players, coaches, staff and fans.
So, the Big Ten needs to use every tool available.
Fortunately, the smart folks at Illinois came up with a quick, easy, painless and inexpensive way to test for COVID-19. And the folks in charge seem perfectly willing to share with their Big Ten cohorts.
So, the earlier not-nearly-enough mandate to test twice a week will be replaced by the doable requirement to test every player, coach and staffer, every day.
That's not a maybe. That's a MUST.
If someone tests positive — it's going to happen — they go into quarantine with the best care.
There will also be changes in equipment to reduce the risk of infection.
And, of course, everyone will be wearing masks, washing their hands, avoiding crowds and social distancing. Except on the field, where it is impossible to socially distance while blocking or tackling.
Travel will be an issue. Because the teams won't be going to neutral-site domes, only half the teams will be on the road each week. That's a positive step.
Because we know everyone is testing every day, any chance for spread from team to team should be greatly reduced. It's still possible, but not as likely.
Host schools will make arrangements to lodge the visitors at the same place each week. Great care will need to be used in planning meals on the road. The schools know their community best, so it will have to be a cooperative effort.
Last question: Fans. Can't decide right now. A lot depends on the COVID-19 cases when the games are played.
The key word here is flexible. Season tickets are out for spring 2021. If fans are allowed to attend, it will be for a single game with paperless ticketing.
If fans are allowed, the numbers will be up to state and local officials. I'm going to insist on no tailgating until there is a vaccine. Yeah, I know, I'm no fun.
We want to get to the other side as soon as we can, while still being able to enjoy the greatest game.
See you in January. Might want to bring a coat.