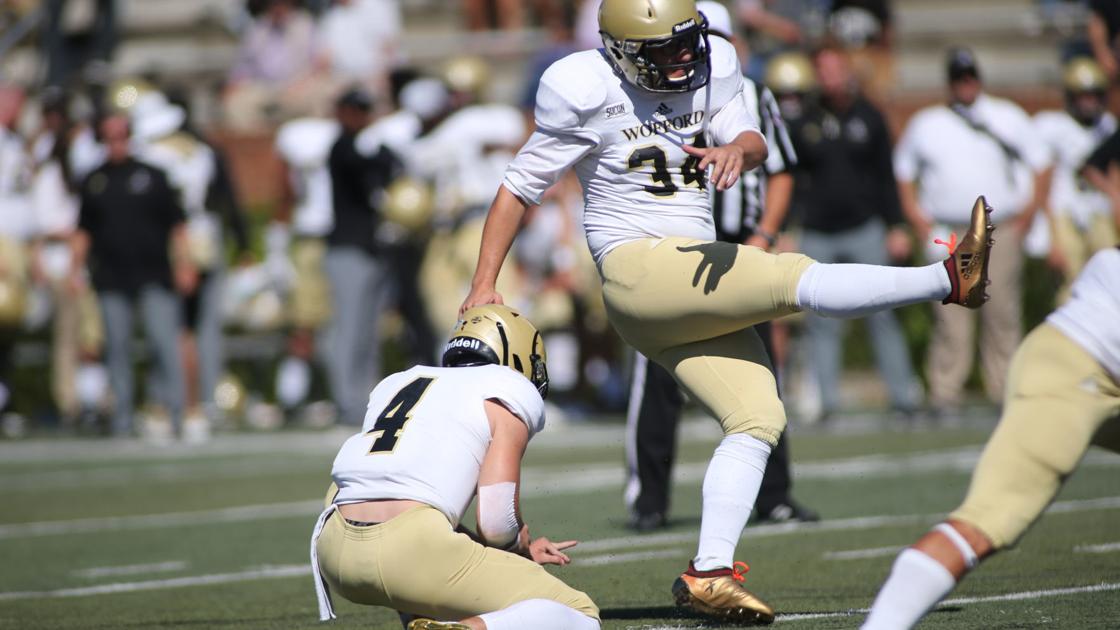 Morning News
FLORENCE, S.C. — The National Football League canceled pro days at a number of colleges on March 13 in response to the COVID-19 pandemic.
Luckily for Wilson High's Luke Carter, that was one day after Wofford and a few other state schools were able to showcase athletes' skills at Furman University.
"I feel like I was really lucky," Carter said. "So many prospects rely on that pro day to get their names out there for the NFL, and now they just have to rely on film and college stats. I'm lucky they were able to look at me on that day."
And overall, the Terriers place kicker/punter felt he showed what he needed to for the scouts in attendance.
"I had a good day," Carter said. "I did all three phases — kickoffs, punts and field goals and I think I did really well. I talked to a couple of scouts after that said they wanted to keep in touch."
There were about eight teams from the NFL and two more from the Canadian Football League, Carter said.
"I talked to the (Miami) Dolphins, the (Indianapolis) Colts and the BC Lions from the CFL," he said. "I don't think the XFL was there because their season was still going on, but I got contacts in both leagues. I'm open to any league and just any opportunity that presents itself.
"Hopefully there might be opportunities in both."
When those might come is yet to be determined. For the time being, the NFL is still moving forward with its draft on April 23-25, although the way it is conducted might be very different in keeping up with COVID-19 safety measures.
If it does take place as scheduled, Carter is looking to hear from teams not long afterward.
"My agent has been telling me that it's really hectic right after the draft," he said. "You'll usually get calls right after about mini-camps and free agent contracts and things like that. So if they hold the draft, I'll be ready for it."
In the meantime, Carter has been working on ways to keep himself in shape while also trying to stay sharp. He set the record for consecutive PATs in the Football Championship Subdivision by going 141 for 141 and was also the most accurate field goal kicker in school history as well with a percentage of .825 (33 for 40).
"I've been taking advantage of the (Francis Marion) soccer fields and I've also been over at Wilson and South Florence (High Schools) and kicked on those fields a little bit," Carter said. "And then just running throughout the day. I run at lot at night, too. It's tough with this virus to kind of stay active, so you've got to be cautious and follow the rules, but you've got to get out when you can and keep in shape.
"I try to do that at least four or five days a week."
Luckily as a kicker/punter, Carter is able to do most of routine by himself, so social distancing isn't much of an issue.
"I'm able to be out there by myself," he said. "I still have a coach up in Charlotte, and hopefully I'll be able to go see him one more time before the April or May stuff gets going, so that would be helpful."