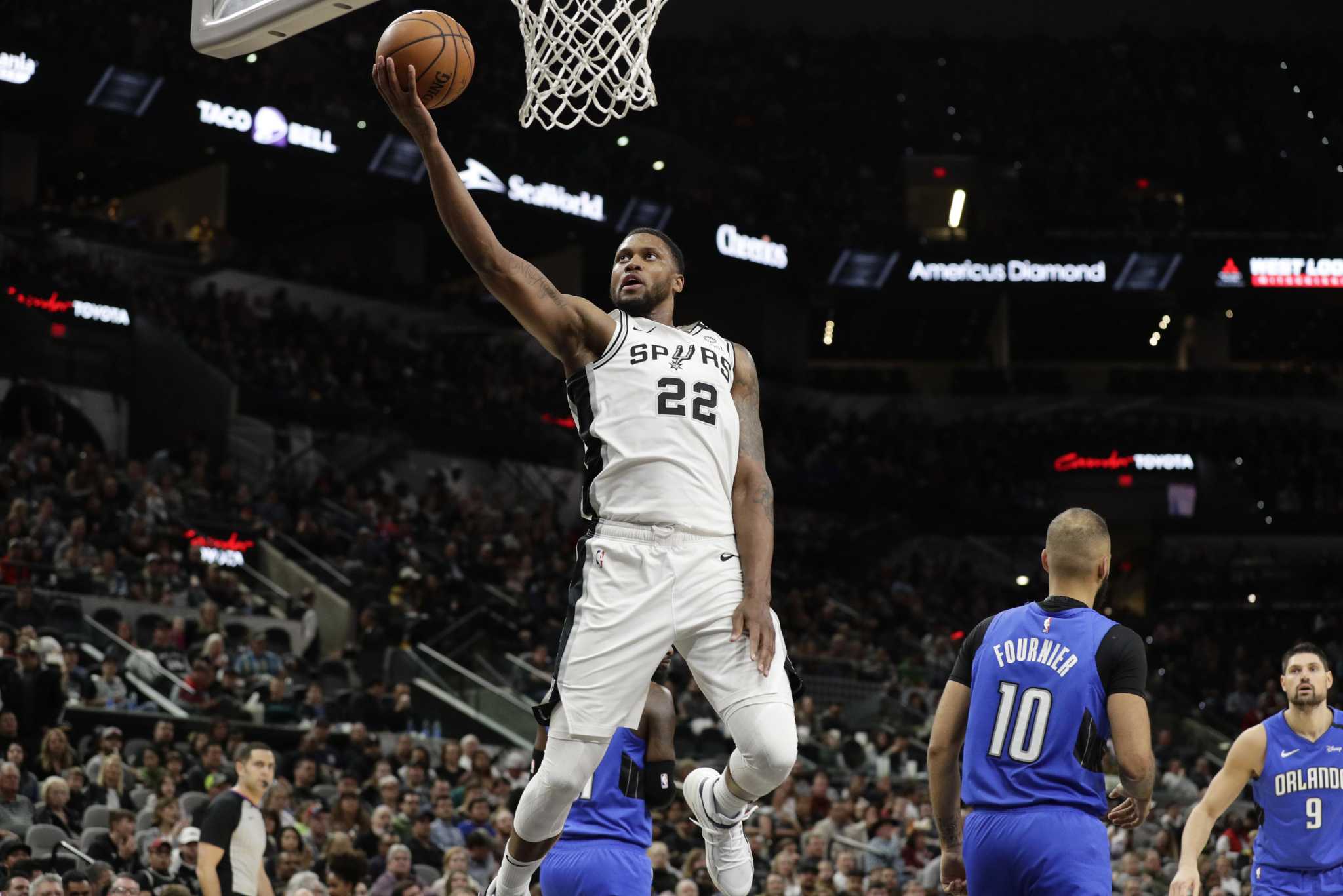 With the season on hold amid the coronavirus pandemic, Spurs forward Rudy Gay is trying his hand at a task that sometimes can be as difficult as defending a young, athletic player.
"Teachers, I have the utmost respect for them," Gay said Thursday after teaming with his wife, Ecko, for a few homeschooling sessions with sons Clinton, 5, and Dean 4. "These kids get jittery and they move around. Imagine a whole class like that."
Family time and daily workouts have dominated the 14-year veteran's life ever since the NBA abruptly suspended the season the night of March 11 after the Utah Jazz's Rudy Gobert tested positive for COVID-19.
"We are just keeping busy, doing home workouts, spending time with the kids, teaching them how to play basketball, watching moves, all the stuff you take for granted during the season when you travel so much," Gay said.
In an interview last week with ESPN, NBA commissioner Adam Silver expressed optimism the league will be able to "salvage at least some portion of the season," but Gay has his doubts.
When play stopped, the Spurs (27-36) were four games behind the Memphis Grizzlies in the race for the eighth and final playoff spot in the Western Conference with 19 games remaining.
"Confident? No. Hopeful? Yes. That's how I am approaching it," Gay said when asked if he thought the Spurs would play again this season. "I just feel like it's not just about (the NBA). Everybody has a lot of business to take care of."
Despite the uncertainty, Gay is doing his best to stay prepared for a return to the court. Joined by a friend he usually works out with in the summer, he puts in grueling sessions to keep his 33-year-old body fit.
Gay would like to play basketball with his teammates, but the NBA sent a memo to teams last week instructing them to close their training and practice facilities to all players and staff. The league also recommended in the memo that players "take aggressive measures to avoid contact with others and remain home as much as possible, leaving only for essential activities," several media outlets reported.
"The basketball part (of conditioning) is going to be tough, with not being able to do that," Gay said. "But as far as keeping my body ready for whenever it is going to start, I can handle that."
Besides getting help from his friend with workouts, Gay also has been in contact with the Spurs' training and medical staffs.
"The Spurs have been great with trying to keep us active and doing certain things," he said.
Gay applauded the NBA's swift decision to stop the season after Gobert tested positive.
"The league did a great job of nipping it in the bud right there," he said.
News of the decision broke on a Wednesday night while Gay was at home and came less than 24 hours after he scored 17 points off the bench to help the Spurs beat the Dallas Mavericks at the AT&T Center.
"I thought (the coronavirus spread) was bad, but I didn't think the (stoppage of play) would last long," said Gay, recalling his immediate thoughts that night. "I thought it would be quick. We had already taken precautions as far as game play and even with how we interacted with media and fans."
To date, 14 NBA players have tested positive for COVID-19. That includes four players with the Brooklyn Nets, who the Spurs faced March 6 in New York City.
Gay said he did not get tested. As of Thursday, more than 81,000 Americans have tested positive for the coronavirus and there have been more than 1,100 deaths.
"I'm a God-fearing man," he said. "I'm not worried."
Gay's biggest concern now is for the mother of Karl-Anthony Towns. The Minnesota Timberwolves star revealed Tuesday night in an emotional video that his mother is in a medically induced coma and is on a ventilator. The Timberwolves on Wednesday confirmed to ESPN that Jacqueline Cruz has been diagnosed with COVID-19.
On Thursday, the Timberwolves and Towns' agent told ESPN that both of his parents have tested positive for coronavirus.
"My mom (in Baltimore) is doing great, but obviously my heart goes out to Karl and his family," Gay said. "More than anything, the NBA is a family. I hope they figure out how to give her the best treatment and that she makes a 100 percent turnaround."
With Towns' mother gravely ill and the economy in shambles, such issues as the uncertainty surrounding players' paychecks are trivial, Gay said.
ESPN reported players will get their paychecks as scheduled April 1, but that the fate of their salaries beyond that date is unclear.
"I think what is more important is the safety of us Americans," Gay said. "Everybody wants to be paid, but it would be selfish of me to say I should get paid when (so many Americans aren't) getting paid. We are all going to get hurt to some degree, some people worse than others. Financial literacy, I guess. You have to prepare for times like this. I think that's something as Americans we have to get better at."
Gay said the toughest thing for him about the NBA being on hiatus has been the dramatic "change of speed."
"When you are in season mode, you are on the go," he said. "It's a schedule every day. Trying to figure out ways to spend your day and how to be productive is totally different. That's the toughest part for me."
A lifelong fan of the NBA, Gay said he misses watching games just like everybody else.
"Not being able to see it, the competitiveness of it, is kind of tough," he said.
Praised by coaches and teammates for his willingness to mentor young players, Gay had some advice for the Spurs' large contingent of youngsters, a group that includes Lonnie Walker IV and rookie Keldon Johnson.
"Stay in shape and try to occupy your time with something meaningful other than playing video games," Gay said. "But I'm not going to lie. I've been playing some. I usually don't, but it's been tough because my son likes to play them. But pick up a book, watch a TV show you can get into. Do something meaningful."
For Gay, "something meaningful" has meant teaching his sons.
"It is harder than you guys think," he said.
torsborn@express-news.net
Twitter: tom_orsborn