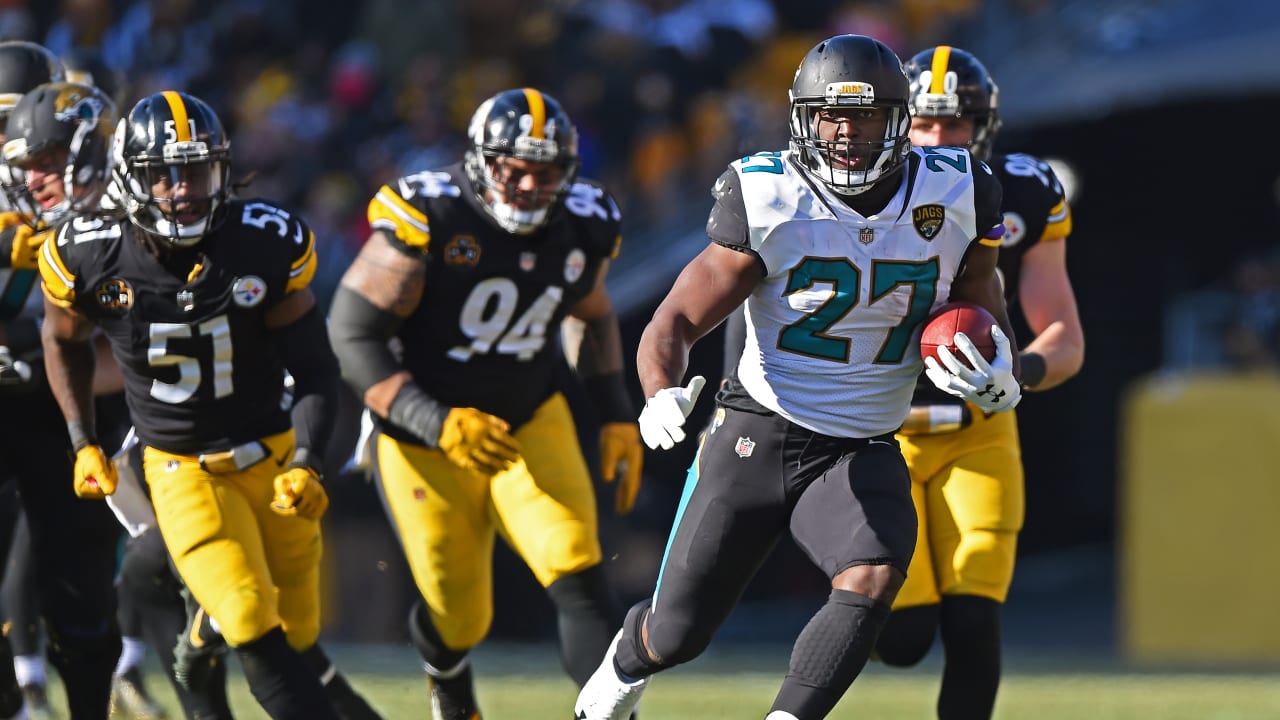 JACKSONVILLE – Sometimes, good things are free.
Such is the case with NFL Game Pass – until the end of May, at least.
The NFL through May 31 is offering free access to Game Pass, which includes full broadcast replays of all NFL regular-season and postseason games dating to 2009 – and which also includes access to NFL Films productions such as "A Football Life" and "Hard Knocks."
So, if you're self-quarantining and missing live sports in the coming days and weeks, there's an NFL – and, of course, a Jaguars – alternative available. Here's a look at 10 Jaguars games to re-watch from that era:
1.Jaguars 31, Indianapolis Colts 28 | October 3, 2010
The Jaguars' 2010 season was full of memorable moments, with the Jaguars playing their way into postseason contention before narrowly missing the AFC South title. One of the first signs the team could contend came at home in this game against the Indianapolis Colts, when the Jaguars matched the defending AFC Champions touchdown for touchdown before winning on kicker Josh Scobee's last-play, 59-yard field goal.
2.Jaguars 35, Dallas Cowboys 17 | October 31, 2010
This was supposed to be a difficult matchup for the Jaguars. Instead, it became one of their most convincing victories of the season – and one of the best games of quarterback David Garrard's career. He tied a then-franchise record with four touchdown passes and ran for another. The Jaguars pulled away in the third quarter, leading 28-3 entering the fourth quarter of a victory that started a stretch that moved them into first place in the AFC South.
3.Jaguars 31, Houston Texans 24 | November 14, 2010
The '10 season was about miracles and moxie for the Jaguars, and perhaps no game was more miraculous than this one at home against their AFC South rivals. The Jaguars lost a late lead but got a break when linebacker Justin Durant recovered a fumble by Texans tight end Joel Dreessen. Garrard turned that reversal of fortune into one of the most memorable victories in franchise history, completing a 50-yard last-play Hail Mary to wide receiver Mike Thomas.
4.Jaguars 12, Baltimore Ravens 7 | October 24, 2011
The '11 season was the start of a difficult stretch for the Jaguars, but this game stood out as the last huge upset victory of Jack Del Rio's tenure as head coach. The Jaguars turned in one of the best defensive performances in franchise history – and got one of the most overlooked great individual special-teams performances in team history. Kicker Josh Scobee converted all four of his field-goal attempts – from 54, 54, 22 and 51 yards – and the 2-5 Jaguars held the 4-2 Ravens to 146 total yards and 11 first downs on a Monday Night game in Jacksonville.
5.Jaguars 51, Indianapolis Colts 16| December 13, 2015
Gus Bradley's tenure as the Jaguars' head coach featured few many memorable victories, but this stood out as the biggest of his four seasons. The Jaguars, after trailing 13-3 late in the first half, scored 41 second-half points and pulled away for an easy victory over their AFC South rivals – and set a franchise regular-season record for points in a game. Quarterback Blake Bortles threw three touchdowns with no interceptions and highlights were an 80-yard touchdown pass from Bortles to wide receiver Allen Hurns, a 73-yard punt return for a touchdown by wide receiver Rashad Greene Sr. and 49-yard strip-sack fumble return for a touchdown by defensive end Andre Branch.
6.Jaguars 20, Los Angeles Chargers 17 | November 12, 2017
There are multiple games from 2017 from which to choose for this list, including a 29-7 season-opening victory at Houston and a 30-9 victory at Pittsburgh that announced to the NFL world that the '17 Jaguars were a legitimate contender. But don't overlook this victory over quarterback Philip Rivers and the Chargers, a game clinched in overtime by cornerback A.J. Bouye's interception and kicker Josh Lambo's ensuing game-winning field goal.
7.Jaguars 30, Seattle Seahawks 24 | December 10, 2017
The aforementioned victory over the Chargers was emotional and electric. But this victory over quarterback Russell Wilson and the Seahawks may have topped it. The Jaguars intercepted Wilson three times, and Bortles had one of his best career games with touchdown passes of 18 yards to wide receiver Dede Westbrook and 75 yards to wide receiver Keelan Cole as the Jaguars moved closer to the AFC South title.
8.Jaguars 45, Pittsburgh Steelers 42 | January 14, 2018
Is this isn't the franchise's biggest victory of the last decade and a half, it's near the top. The Jaguars took leads of 21-0 and 28-7 and running back Leonard Fournette rushed for three touchdowns as they held off a Steelers second-half charge in an AFC Divisional Playoff following the 2017 season. The victory put the Jaguars in the AFC Championship Game for the first time in 18 years.
9.Jaguars 31, New England Patriots 20 | September 16, 2018
The Jaguars, with the memory of an AFC Championship Game loss to the Patriots eight months before still fresh, dominated from the start with Bortles throwing for 376 yards and four touchdowns. The Jaguars took leads of 14-0 and 24-3, never allowing the eventual Super Bowl champions to get closer than 11 points in one of the most memorable games in recent memory in Jacksonville.
10.Jaguars 20, Oakland Raiders 16 | December 15, 2019
Quarterback Gardner Minshew II led the Jaguars to six victories in 12 starts as a rookie this past season, but no victory was as memorable – or as improbable – as this one in the Raiders' final game at Oakland-Alameda County Coliseum. The Jaguars trailed 7-0 and 16-3, but Minshew threw two touchdown passes to wide receiver Chris Conley in the final 5:20 to snap the Jaguars' five-game losing streak.