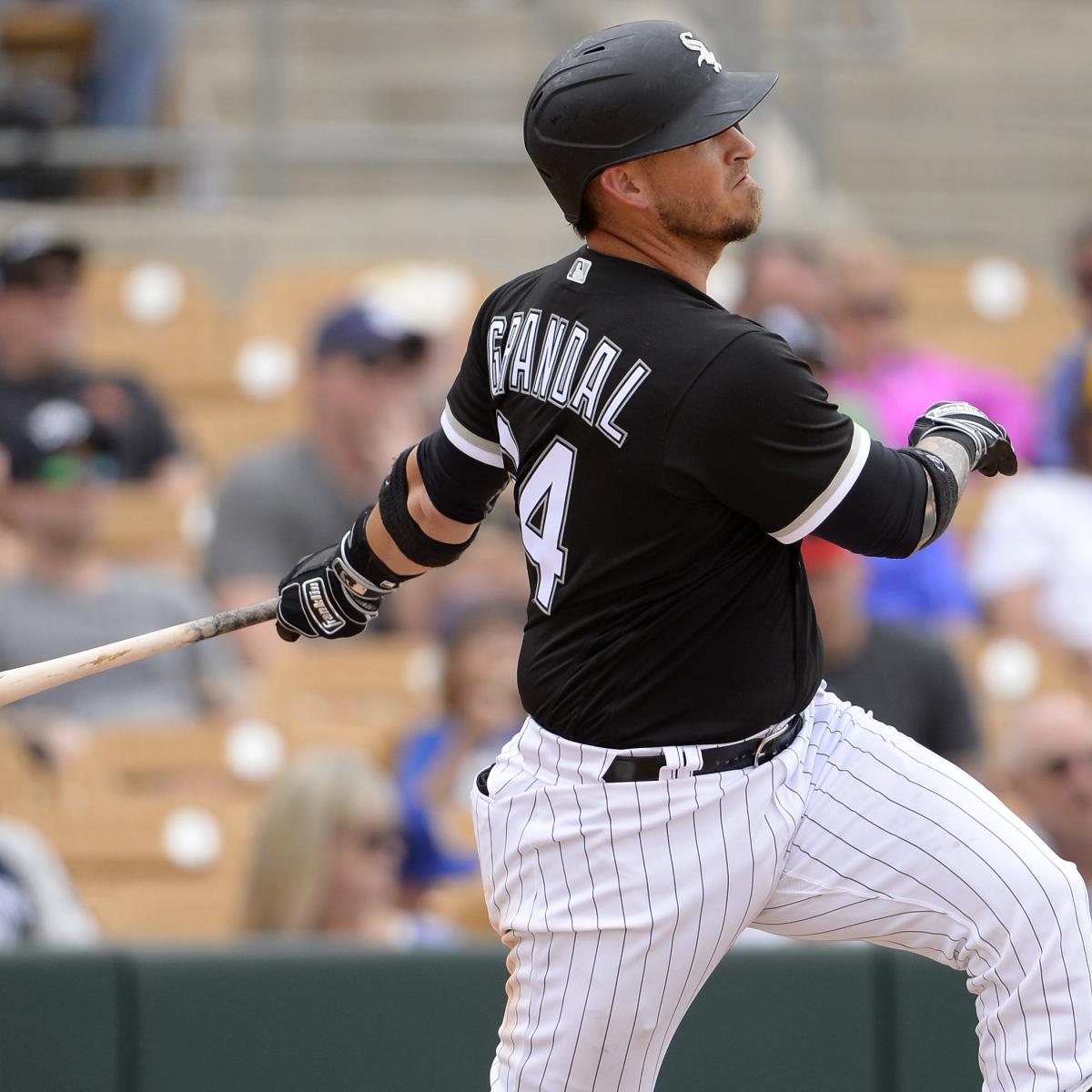 Texas' Robinson ChirinosJeffrey McWhorter/Associated Press
25. Austin Romine, Detroit Tigers
Romine spent the past four years on the wrong end of a catcher platoon with the Yankees, but he should be the main man in his new threads in Detroit. He's a career .239/.281/.366 hitter, though the Tigers are hoping he provides a repeat of last year's .281/.310/.439 campaign. In FanGraphs WAR since the start of 2018, Romine ranks 22nd among the 34 catchers with at least 500 plate appearances.
Eric Haase may have something to say about this being Romine's job to lose, though. He's not a guy who hits for average, but Haase swatted 76 home runs over the past three seasons—all but one of them at either the Double-A or Triple-A level in Cleveland's farm system.
24. Danny Jansen/Reese McGuire, Toronto Blue Jays
Jansen and McGuire had a combined FanGraphs WAR of 2.6 last season, which is borderline top-10 as far as teamwide production from the catcher position is concerned.
The problem is each one has shortcomings. Jansen hit 13 home runs and was a plus on defense, but he only batted .207. McGuire was better in the average department (.299), but he wasn't much of a slugger throughout his minor league career (22 home runs in 2,239 plate appearances). He does have seven dingers in 138 MLB plate appearances, but we'll see if he can maintain a rate anywhere close to that over the long haul.
23. Robinson Chirinos, Texas Rangers
Chirinos is aging more gracefully than most catchers. He'll turn 36 in June, but he has hit at least 17 home runs in each of the last three seasons. Also, all four of his career stolen bases came during that window. 
But he's not hitting well enough to be a DH, and he has become a significant liability behind the plate. Chirinos allowed 98 stolen bases over the past two years with a caught stealing percentage of just 15.5.
If he hits 17 home runs again, allowing roughly one stolen base every two games won't be the end of the world. If he starts to regress, though, Texas' backup is an even older Jeff Mathis (37) who has a career batting average of .195 and hasn't hit more than two home runs in a season since 2013.
22. Jason Castro, Los Angeles Angels
Castro was an All-Star in 2013, hitting 18 home runs and batting .276/.350/.485.
He's still providing value on an annual basis but not nearly as much.
Castro has clubbed at least 10 home runs in five of the past six seasons; however, he has a .220 batting average with a strikeout rate just north of 30 percent. His impact on defense peaked in 2015 and 2016, and he wasn't a significant threat in 2019 to throw out base stealers or to pounce out from behind the plate on bunts and dribblers.
The Angels didn't get anything from their stable of catchers last year, though, so they signed this veteran free agent to a one-year deal for almost $7 million.
21. Carson Kelly, Arizona Diamondbacks
Like Pittsburgh's Jacob Stallings, Kelly didn't hit his first four-bagger until this past season. But he mashed 18 of them in 365 plate appearances. He also displayed solid plate discipline, drawing walks in 13.2 percent of PAs. (Worth noting that 10 of his 48 bases on balls were intentional, as he spent most of his time batting eighth in the NL.)
Prior to last season, he had a career batting average of .154 and a .188 slugging percentage in three seasons with the St. Louis Cardinals. With any luck, his second season in Arizona will look much more like 2019 than 2016-18.
Should Kelly falter, though, Stephen Vogt is a solid backup, and Daulton Varsho is waiting in the wings as a highly regarded prospect who hit .301/.378/.520 with 18 home runs and 21 stolen bases in Double-A ball last year.