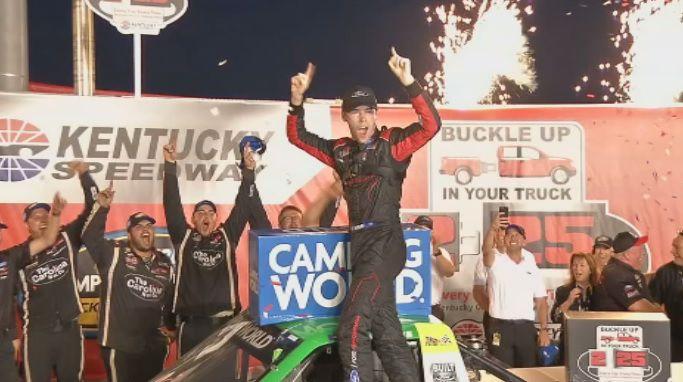 LOUISVILLE, Ky. (WDRB) – Newlywed NASCAR truck series driver Ben Rhodes found himself with some unexpected downtime at his Louisville home with his new wife when the novel coronavirus outbreak put the brakes on the racing schedule.
"We're spending a lot of time at home, which is nice, because I know once our season does start back up, we're going to have like 13 weeks in a row where we're gone the whole time," Rhodes said. "So, we're enjoying it and trying to get as much stuff done as we can."
One thing Rhodes is getting done is a project to rebuild "Beth the Bug," a 1971 Volkswagen Beetle he bought in 2015, into a lowrider.
"I hope to get that lowrider on the street here soon," he said. "It's been a project of mine for a very long time, and I've had zero time allotted to finish the project and now I'm taking advantage of the opportunity."
NASCAR is aiming at a restart in May. In the meantime, Rhodes and his crew have been meeting virtually, using iRacing. It's like an advanced video game where drivers and crews can try different setups and race on any track.
iRacing is something to keep Rhodes and his crew sharp and communicating because they aren't able to meet in real life. He's hoping that changes in May.
"I just want to be back on the track. This is just painful," Rhodes said. "iRacing is cool and all, but there ain't nothin' like being in a real race car, and turning laps — the smell of the rubber, the fuel. There's something about it that gets your adrenaline going."         
Copyright 2020 WDRB Media. All Rights Reserved.