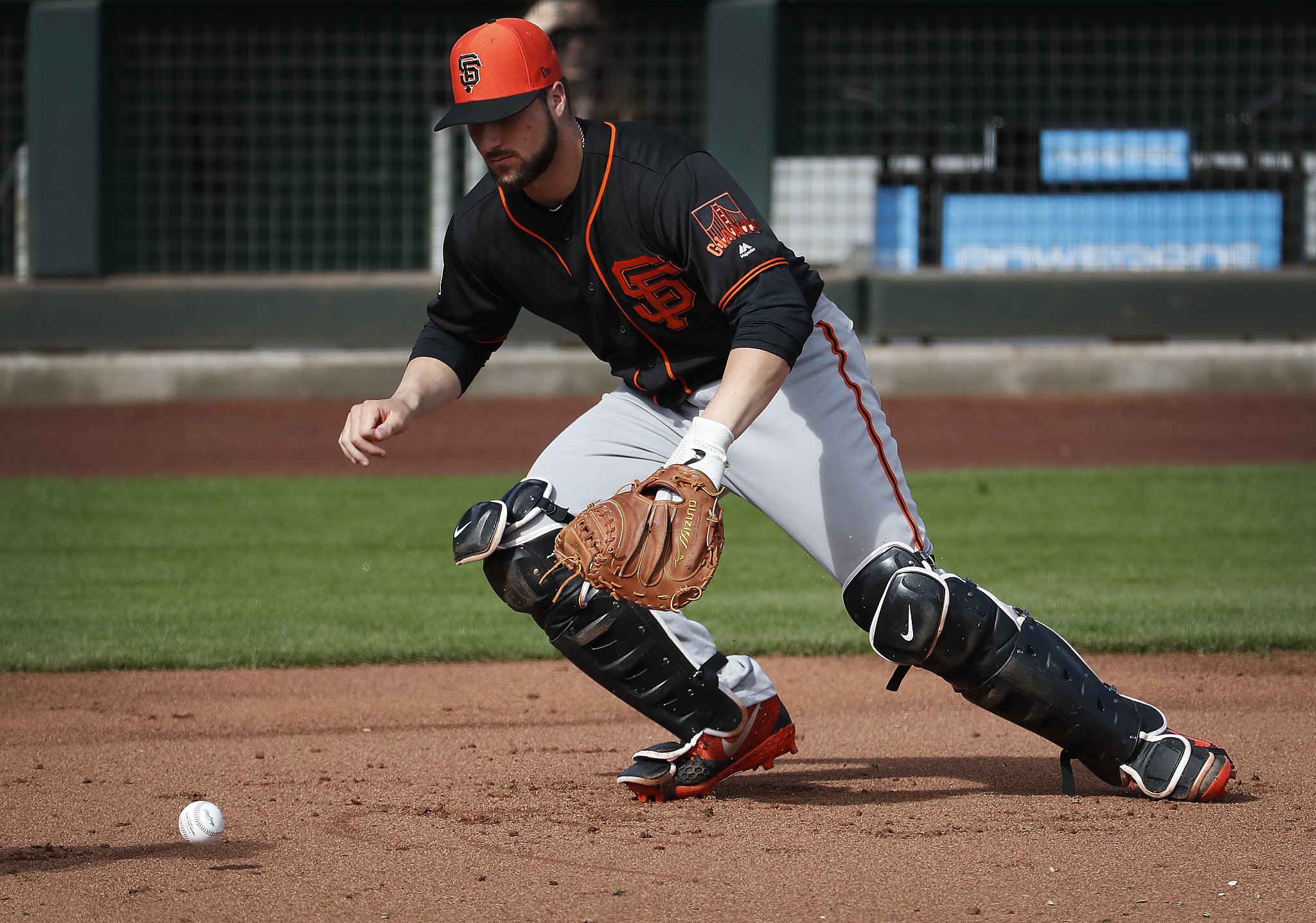 Ballplayers will be credited with a year's worth of service time in 2020 even if there's no season, and that'll assure several Giants of reaching free agency on schedule.
With baseball on hold because of the coronavirus pandemic, an agreement with contingency plans between owners and players became official Friday, and players on 40-man rosters or the injured list will be credited for a full year if the season is canceled.
Aside from service-time guarantees, the deal calls for $170 million to be advanced to players over two stages, none of which would be refunded if there's no season.
As a concession, the players' union has agreed to limit the June draft to as few as five rounds, a huge cost-cutting measure for owners. The salaries for 2020 would be prorated based on how many games are played.
If there's no season, the $170 million for players would amount to just 4% of the $4 billion that would have been paid in salaries.
Here's what it means to the Giants:
Condensed draft
A rebuilding team relies heavily on the draft, and five rounds would hamstring the Giants, who will pick 13th overall. The Dereck Rodriguezes of the world could get lost. He was a sixth-rounder in 2011.
On the other hand, a team executive said the Giants already have done extensive draft preparation and are in good shape even without games played this spring in college or high school.
The draft can be pushed back to July, and undrafted players can't sign for more than $20,000. It's not a good year for amateurs especially because owners have been pushing to eliminate 42 minor-league teams.
Meantime, realize that Chili Davis was an 11th-round pick, Jack Clark was drafted in the 13th round, Bill Mueller in the 15th and Sergio Romo in the 28th.
Top prospects in limbo
The Giants were looking forward to catcher Joey Bart getting valuable seasoning in the minors and debuting in San Francisco this summer, and that's on hold. Similar stories could be written about Heliot Ramos and Sean Hjelle.
In fact, the whole rebuild might be pushed back a year, with or without this agreement. The Giants would have loved to see what 18-year-old shortstop Marco Luciano could do with a full season of minor-league at-bats. Won't happen.
On the other hand, the Giants will benefit because these prospects won't be starting their big-league service-time clocks any time soon.
Free agents in 2021
Jeff Samardzija, whose five-year, $90 million contract runs through 2020, still can be a free agent next winter. Because the agreement calls for him to get full service time this year, he can hit the open market on schedule.
So can Hunter Pence and Kevin Gausman, who signed one-year major-league deals, along with several other veterans who were invited to spring training as non-roster players including Billy Hamilton, Yolmer Sanchez, Trevor Cahill and Jerry Blevins.
More than the Giants, this will affect other teams with marquee players in their walk years. The Dodgers, for example, made a monster trade to acquire Mookie Betts, and if there's no season, the sensational outfielder wouldn't play a single game in Dodger blue unless he re-signs in 2021.
No raises in arbitration
Arbitration-eligible players are impacted differently than free agents. Yes, they'll get their service time. But, no, they won't be in line for their normal pay raises if the season is canceled.
That's because they'd receive their 2020 salaries again in 2021. That includes the Giants' Alex Dickerson, Donovan Solano and a few others.
Milestones on hold
Another downside for Dickerson is that he won't enjoy his first full season in the majors. Ditto for Mike Yastrzemski and Mauricio Dubon, all of whom played parts of 2019 in the minors and were looking forward to playing six months in the bigs for the first time.
The good news for them is that if they spend an entire shortened season in the majors, they'd be credited with a full year of service.
John Shea covers the Giants for The San Francisco Chronicle. Email: jshea@sfchronicle.com Twitter: @JohnSheaHey