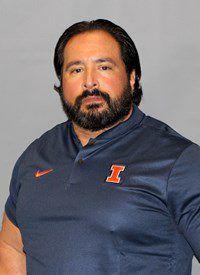 CHAMPAIGN — Illinois defensive back Quan Martin set up a modified bench press at home, with a pair of tires the stand-in for the weight plates. Fellow Florida native and defensive back Kerby Joseph got in a workout on sand — at night, by himself.
Wide receiver Josh Imatorbhebhe did squats while holding giant water jugs. Then there was Doug Kramer. The three-year starting center and team captain's new at-home workout? Pushing a fullsize Dodge Ram truck.
Those modified workout plans are now a necessity with the players at home and Illinois' facilities closed in response to the COVID-19 pandemic.
The Illini are mostly sharing their videos with head strength and conditioning coach Lou Hernandez, who spreads them far and wide on Twitter. Kramer, though, posted his own and then made sure to tag fellow offensive lineman Kendrick Green.
"I absolutely love it, and I want more of it," Hernandez said Friday. "We've got all sorts of things going on. They have definitely surpassed my creativity. That's for sure. It's really exciting to see how much it matters to these guys to find a way to continue to stay the course on everything that we have set coming up for our season."
Hernandez has incorporated more social media engagement with his program since returning to Illinois in 2019. His own Twitter profile is full of video highlights from the weight room, with Green — and his 700-pound squat — perhaps the most impressive of the recent videos.
"We started to use it basically as a training tool," Hernandez said of his staff's implementation of video technology. "Here's the video of you doing this squat. If you missed it, this is why. … It started with that, and the next thing you know, it just started to capture a lot of the excitement of the accomplishments and the unity and the support of the team. I said, 'This is important to get out there.' This day and age, this is just where we're at. … I have to try to adapt to how to communicate and reach some of these guys and let them know we're supporting them and to motivate them."