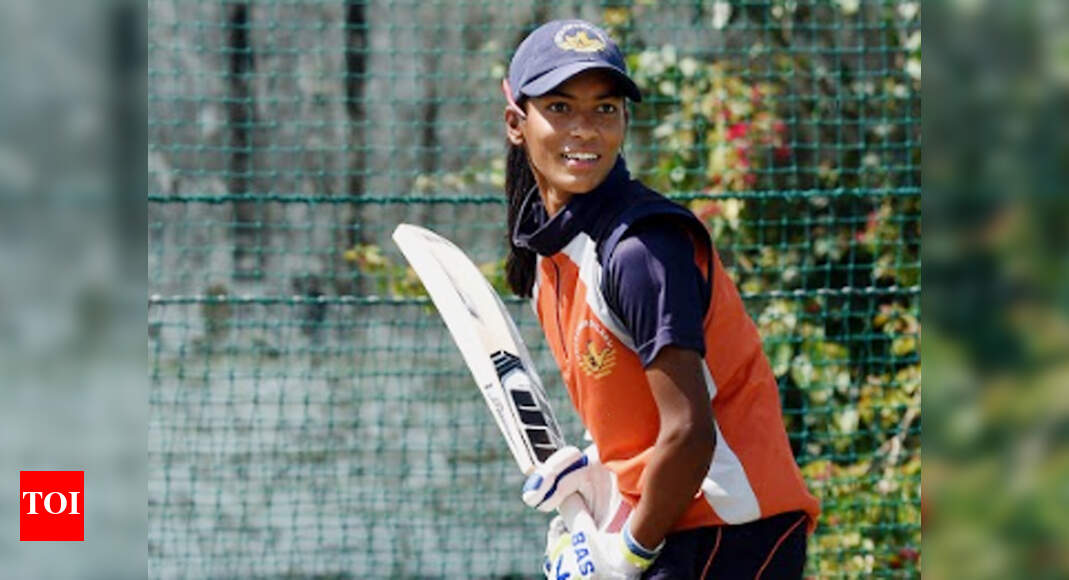 CHANDIGARH: A decade ago, when carpenter
Bhupinder Singh
made a cricket bat for daughter, he turned a childish demand into passion. The girl,
Amanjot Kaur
, 19, now captain of the city's senior women's and under-23 teams, was in red hot form with the bat all season.
She was top run-getter for her side in all formats before novel coronavirus forced the Board of Control for Cricket in India (BCCI) to suspend all the domestic tournaments. She scored 370 runs in just nine matches of the senior one-day trophy. Her 457 runs in nine under-23 50-over contests included a century.
';
var randomNumber = Math.random();
var isIndia = (window.geoinfo && window.geoinfo.CountryCode === 'IN') && (window.location.href.indexOf('outsideindia') === -1 );
console.log(isIndia && randomNumber
She caught the attention of selectors in the recent under-23 T20 trophy in which she captained Chandigarh. The all-rounder scored 184 runs and claimed 10 wickets in seven matches. She moved a step closer to her ultimate dream after making it to the India A team for the under-23 T20 Challenger Trophy of December last year.
Amanjot said: "I am just reaping the rewards of the pre-season hard work under the eyes of coach Nagesh. I relish the challenge of captaincy. It gives me extra motivation to do well for the team." More than handful with ball too, the all-rounder has scalped 29 wickets in different formats for Chandigarh this season.
Jeers to cheers
From playing gully cricket with boys near her house in Phase V, Mohali, to being shut out of the academy for being a girl, Amanjot Kaur has fought prejudices but kept her passion alive. The student at Guru Gobind Singh College For Women, Sector 26, was taunted for picking up this "boy sport". She said: "You know our society. People used to say: "Ladki hoke cricket khelte ho (a girl shouldn't play cricket)." Those jeers only made her stronger. "I used to be the only girl on the pitch. Playing with the boys made me stubborn," she recalled. Family support helped.
"My father (Bhupinder Singh) met all my requirements and would take me to the practice ground every day. When I turned 18 last year, he gifted me a Scooty and now I travel on my own. But the journey wasn't a smooth ride," she said. Four years ago, she was struggling to find a coach. Things changed only after she moved to Chandigarh.
She started playing under coach Nagesh Gupta at Government Model Senior Secondary School, (GMSSS), Sector 32. She's into proper cricket only for the past three-years-and-a-half." Amanjot was kept out of the Sector 26 coaching centre initially. "Had that rejection not come, I would have been elsewhere. Seats filled and they told me to wait another year. Thankfully, Gupta sir spotted me in the nets and told me to join the Sector 32 academy," Amanjot said.
Coach's pride
BCCI level-II cricket coach Nagesh heaped praises on his ward, hoping she would make full use of the opportunity. "Only a few players are as hardworking as Amanjot," he said. "She is a keen learner and disciplined. She would reach the nets by 5.30am even in winter, before everyone, including me. She is a versatile cricketer, who can build the innings with cool head."
On what aspects she needs to work on, Gupta said: "She must start to rotate strike, not just hit boundaries but also convert ones into twos. Because women's cricket has changed a lot. Players hit sixes for fun. If she lifts her game, she can play for India."
The other thing is bowling, which has taken a back seat. "All-rounders are great assets to the team," Gupta said: "If she can improve her bowling, she can realise her dream of playing for India."