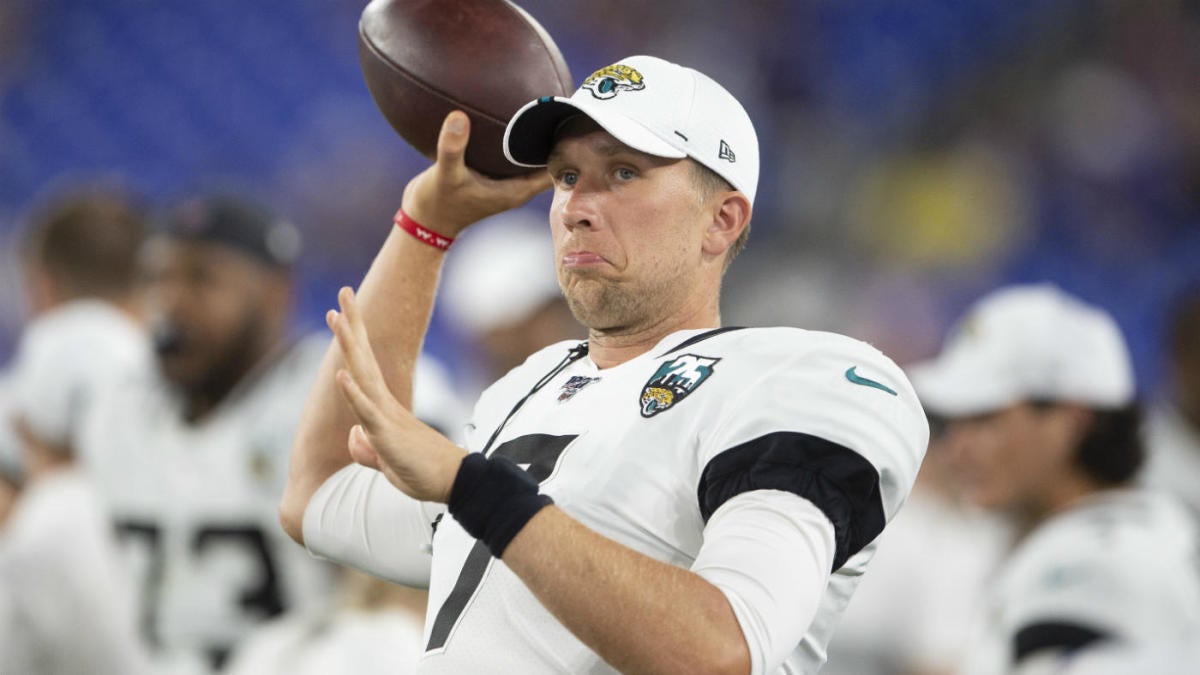 Key additions: Nick Foles (trade), Robert Quinn, Jimmy Graham, Artie Burns.
Notable departures: Prince Amukamara, Taylor Gabriel, Ha Ha Clinton-Dix, Chase Daniel, Leonard Floyd, Nick Kwiatkoski, Nick Williams, Kyle Long (retirement).
The Bears entered the offseason knowing full well they needed to get better at the most important position in all of sports after Mitchell Trubisky's failure to make the leap cost an otherwise playoff-caliber team a spot in the postseason. Unfortunately for Chicago, even though there were a myriad of options available, the Bears did not provide a big enough upgrade at quarterback. By trading for Foles, the Bears did get marginally better at quarterback. Foles will certainly help the Bears improve after their 8-8 season. But it's hard not to see this as a failure with so many better options available like Teddy Bridgewater, Andy Dalton, and even Cam Newton.
While the Bears did well to bolster their pass rush even further by signing Robert Quinn (their best move of the offseason, by far), who should feast on opposing quarterbacks opposite Khalil Mack and Akiem Hicks, their first foray into the market resulted in a signing that just doesn't make any sense: Jimmy Graham to a two-year, $16 million deal with $9 million guaranteed at signing. The tight end position has been problematic for a while now, but overpaying an aging tight end who is a shadow of his former self is not the solution to the Bears' woes.
Elsewhere, the Bears did well to bring back Danny Trevathan to pair with Roquan Smith at inside linebacker, but they're going to be forced to overcome the losses of both Prince Amukamara and Ha Ha Clinton-Dix in the secondary. Blaming Ryan Pace for those losses wouldn't be fair to him — they just ran out of cap space — but the Bears' secondary did get worse this offseason. The Artie Burns signing is OK in the sense that he has some upside and can compete for a job, but after seeing the Seahawks acquire Quinton Dunbar from the Redskins for only a fifth-round pick, it's worth wondering why the Bears didn't make a similar kind of move for an actually good cornerback.
Of course, the Bears' fate will come down to Foles. If Foles plays like he did in the playoffs for the Eagles, this offseason will have been a success for the Bears. If Foles plays like he did for the Jaguars this past season, this offseason will have been an unmitigated disaster for the Bears. As is almost always the case in the NFL, it comes down to the quarterback. Based on the grade I gave them, you can tell which way I'm leaning. The Bears got better at quarterback, but I don't think they landed a big-enough upgrade to catch the Packers. That said, this was an eight-win team with Trubisky a year ago. The Bears aren't going to be bad. At the very worst, they'll remain competitive.
Key additions: Halapoulivaati Vaitai, Jamie Collins, Danny Shelton, Nick Williams, Chase Daniel, Desmond Trufant, Duron Harmon (trade), Jayron Kearse.
Notable departures: Darius Slay (trade), Damon Harrison, Rick Wagner, Graham Glasgow, A'Shawn Robinson, Jeff Driskel, Rashaan Melvin, Sam Martin.
Yikes. Does anyone know what the Lions are trying to achieve? It's been one misstep after another ever since the Matt Patricia era began. This is a team that decided to trade away its best defensive player, Darius Slay, who then proceeded to trash Patricia's coaching methods on his way out. For Slay, the Lions were only able to get a third- and fifth-round pick.
Even the players the Lions added can be seen as a misuse of resources. They gave Vaitai a big deal even though he's seldom been a starter. Meanwhile, they lost Wagner to the Packers and Glasgow to the Broncos. Matthew Stafford, who is coming off a sneaky great season, can't be pleased with what's happened to his offensive line.
Why any team is giving Jamie Collins a big deal is beyond me. It's clear the Lions just want as many former Patriots as possible. But the fact that the Patriots are willing to let him go (again) should be telling.
The Lions were already the worst team in the division by a long shot. After a period of free agency that saw them get worse up front on both sides of the ball in addition to losing their best defensive player, it's difficult to see a path to the top of the division for the Lions. They needed to make major upgrades to compete with the three teams positioned above them. Instead, they got worse.
Key additions: Christian Kirksey, Rick Wagner, Devin Funchess.
Notable departures: Bryan Bulaga, Blake Martinez, Jimmy Graham, Kyler Fackrell, B.J. Goodson.
The Packers emerged with the highest grade in the NFC North, but that doesn't mean they hit a home run. They just had the best offseason out of all four teams. I'm not saying the Packers should've overpaid for a linebacker like Blake Martinez, but his loss will be felt. The same can be said for Bryan Bulaga, their long-time right tackle, who is an elite blocker when healthy. They will miss him. At the very least, the Packers have been able to find suitable replacements — Rick Wagner at right tackle and Christian Kirksey at linebacker (their best move, in my estimation).
But the Packers failed to provide Aaron Rodgers with another weapon he so desperately needs. Davante Adams can't catch all of his passes. Their decision to sign Devin Funchess, a receiver who struggles at gaining separation, is laughable. That's not the upgrade they needed.
I don't think the Packers got better in free agency. But I also think they're the one team that managed to mostly maintain the status quo, swapping in new players for the ones that departed Green Bay. The question is, will that be enough to hold off the Bears and Vikings? As of March — before the draft — I'd say the Packers are still the frontrunners, but I don't think they improved enough to be considered a lock. Regression after a 13-win season should be expected considering their projected win total was 9.7. The good news? The Bears and Vikings both lost significantly more players than them.
Key additions: Michael Pierce.
Notable departures: Stefon Diggs (trade), Xavier Rhodes, Everson Griffen, Trae Waynes, Mackensie Alexander, Linval Joseph, Andrew Sendejo, Josh Kline, Stephen Weatherly, Jayron Kearse.
Speaking of the Vikings, this is a good football team that lost a ton of key players this offseason. Three cornerbacks are gone. Their second best pass rusher left. Their starting defensive tackle moved on. Their best receiver was traded, but the Vikings did get a good haul of draft picks for Diggs.
Their decision to re-sign Kirk Cousins was wise. He might not be a top-five quarterback, but the team would be hard-pressed to find a better option in free agency or the draft. They can win with him, as last season demonstrated. They won't lose Anthony Harris, who notched a career-high six picks last season, in free agency after applying the franchise tag.
But the loss of Diggs and the multiple key losses on defense are difficult to ignore. I don't really know how one could argue that the Vikings got better this offseason. The Griffen loss is substantial. That'll hurt their pass rush tremendously. And the Diggs loss is going to hurt their offense in a big way. The Vikings lost two great players this offseason and haven't replaced them yet. That's why they're receiving a poor grade, even though they'll likely remain a good team that has a chance to unseat the Packers — especially if Green Bay also regresses as expected.