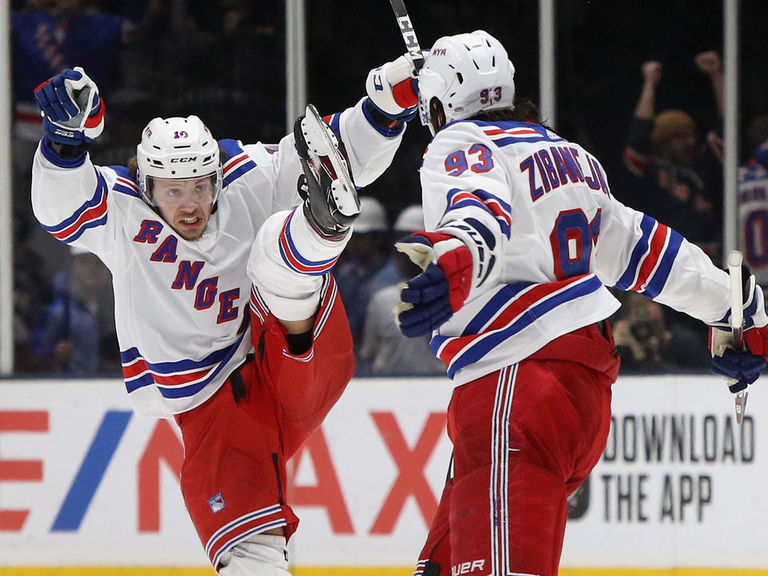 Find line reports, best bets, and subscribe to push notifications in the Betting News section.
Yesterday, we dove into the favorites that were most kind to bettors this season. Today, we'll break down the teams that were most profitable as underdogs.
Note: Profits listed for $100 bettor
1. New York Rangers, +$1,323
The season's most profitable 'dog resides in the Big Apple. The Rangers were underdogs an overwhelming 54 times, as oddsmakers never quite believed in them. The team found success as a home 'dog, turning a profit with an 11-11 record, but did most of its damage on the road. Away from Madison Square Garden, the Rangers went 17-15 as underdogs with an average line of +150, turning a profit of $1,009 for the $100 bettor. That was largely thanks to a run of eight successive victories between Jan. 16 and Feb. 27 (+$965).
2. Edmonton Oilers, +$1,268
The Oilers sit just behind the Rangers in terms of profit despite a better winning percentage (23-18, 56.1%). Inconsistency and unpredictability were a common theme for Edmonton this season, as the team would lose to an opponent like the Sabres one night and then beat the Bruins the next. Like the Rangers, the Oilers experienced most of their success as 'dogs on the road, where they posted a 19-14 record for a profit of +$1,237.
3. Colorado Avalanche, +$701
The Avalanche didn't have nearly as many opportunities as underdogs, but they enjoyed plenty of success when given those chances. Additionally, with an average line of +120, the Avs weren't priced particularly high when they were 'dogs, but they were efficient when their price climbed. As underdogs of +130 or longer, Colorado went 3-1, including a 6-2 victory in Tampa at +179.
4. Dallas Stars, +$659
With an underdog record of 13-10, Dallas comes in fourth on this list. The Stars were decent early in the season as 'dogs, posting a 6-6 record (+$148). After firing head coach Jim Montgomery, they improved their play in this spot, embarking on a 7-4 underdog run (+$511) to close out the season.
5. Washington Capitals, +$611
No team produced a better winning percentage as 'dogs than the Capitals, who posted a 9-4 record (69.2%) in this spot. However, low volume relegates them to fifth on this list. Washington started the season on a 7-1 run when priced as the underdog.
There were nine other teams that returned profits as 'dogs in 2019-20: the Predators (+$521), Jets (+$498), Blues (+$431), Canucks (+$194), Hurricanes (+$160), Lightning (+$133), Blue Jackets (+$131), Penguins (+$69), and Panthers (+$27)
Alex Moretto is a sports betting writer for theScore. A journalism graduate from Guelph-Humber University, he has worked in sports media for over a decade. He will bet on anything from the Super Bowl to amateur soccer, is too impatient for futures, and will never trust a kicker. Find him on Twitter @alexjmoretto.